We have produced more than 300 stability booklets (intact or damage) for :
– Passenger ships mono or multihull
– Fishing vessels
– Private or commercial motor or sailing yachts.
– Tugs
– Cargo ship
– Offshore units
– Pontoons
– Barges
– Polar exploration ship
– 60 feet racing boat
– …
taking into account, of course, the specificities of each regulation :
– Passengers crowding
– Influence of lifeboats launching
– Wind effect (+ reefing for sailing vessels)
– Towing forces
– Influence of ice or water on the deck
– Swinging keel, windward ballasts
– …
and this, in reference to numerous regulations : French – C.E. – MCA – MALTA – IMO – SOLAS – HSC – IMOCA …
For example, we calculated one of the first SOLAS probabilistic damage stability booklet for a French ship (*).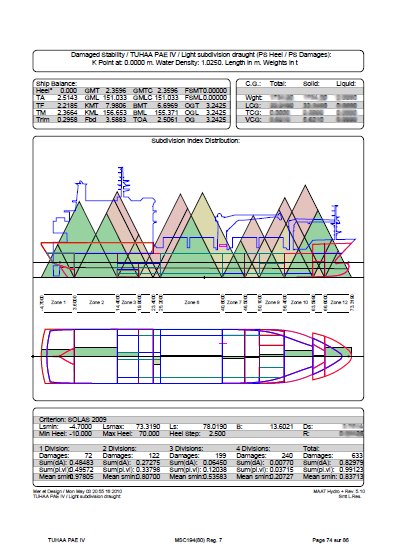 We offer fast turnaround for specific regulatory requests : our experience in software development allows us to easily customize the various regulations scripts used by MAAT Hydro + for your own needs.
We can also produce loading manuals with shear forces and bending moments diagrams according to the weight distribution of your ship.
The frequence and history of our business in the field of ship stability has enabled us to develop close relationships with most of the major classification societies : BUREAU VERITAS – LLOYD'S – ABS – RINA – DN VERITAS.
(*) Cargo / Passengers ship TUHAA PAE IV – Mer & Design
Tél. : +33 (0)4 93 64 52 34
Mob. : +33 (0)6 89 10 60 12
e-mail : stab@mchl.fr